Total Body Premium Detox
Total Body Premium Detox
$73.99 Retail
$59.19 Subscribe with Benefits Price
Part of the Fuel Method, and Step 2 in the Body Method.
Sexy Starts With A Healthy Gut
It's not enough to poop, but we all want to do it more, so let's be real for a moment. There is nothing like the feeling of true elimination and the lightness of a clean colon. However, there is a right way to detox and a less effective way, and at the foundation of total health and healing is a good poop. More than that, a total body detox. So we've created the complete package of herbal science to collaborate with your body's healing and elimination process. Because there's no better way to find pure happiness than in the gut. With liver and kidney support, blood and colon cleansing, as well as a premium gut health boost, you will feel lighter, your body will feel alive. Say hello to your best self.
---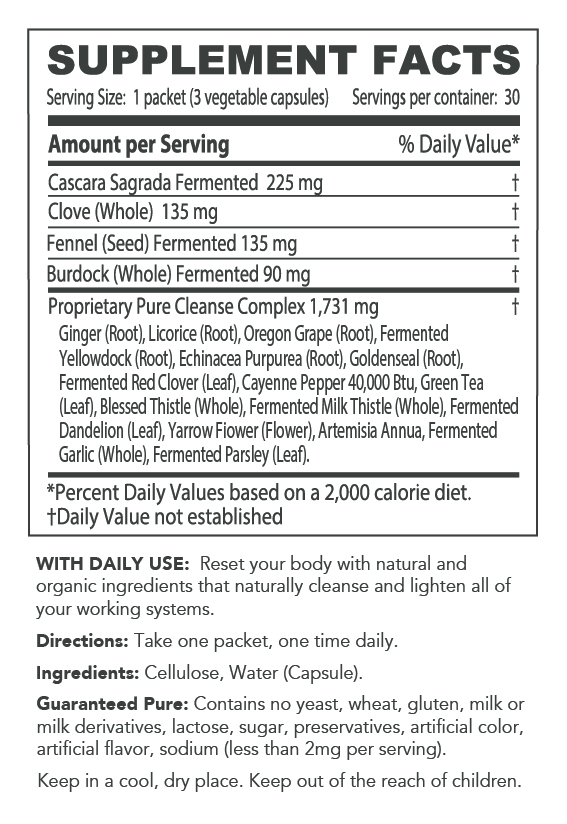 Take up to three capsules per day AM or PM daily.
One package = 30-day supply (up to three capsules per day)
FAQ - Detox
What is the shelf life?
Our supplements have a one-year shelf life.
Is taking this supplement similar to doing a colon cleanse?
This supplement is designed to cleanse the colon, liver, and kidneys.
Can I continue my diet as usual?
You do not have to change your diet to take this supplement. However, for maximum results, we recommend eating clean, healthy foods and drinking a lot of water.
Is this safe for children?
Yes. We recommend starting children with a half dose.
If you have any concerns, we recommend consulting your healthcare provider.

Is this safe for pregnant or nursing women?
We do not recommend taking this supplement while pregnant.
It is safe to take while nursing. However we always recommend consulting your healthcare provider before use.
Can this be taken alongside prescribed medication?
Yes. We stay well below the safety levels for interactions with other ingredients or other medications. However, we always recommend consulting your healthcare provider prior to use.
How long until someone may experience results from this supplement?
For some results can begin right away. We recommend allowing a few weeks to see results.
How long should someone take this supplement?
Since we never stop toxifying our bodies, we should not stop detoxing. This can be taken on going as a daily supplement.
Will this help someone with pre-existing health conditions?
This product is not intended to diagnose, treat, cure, or prevent any disease.
Does it matter what time of day someone takes the supplement?
No, this can be taken with your other supplements, with or without food at any time of the day.
Will this cause weight loss?
While this supplement is not specifically designed for weight loss, some may experience weight loss as a result of detoxing.
Why fermented herbs?
Fermentation is incredible for digestion.
Is this gluten and nut free?
Yes, all our supplements are gluten free and nut free and manufactured in an allergen-free facility.
Can the capsule be opened up if someone is unable to swallow pills?
Yes, we recommend adding to smoothies or yogurt.
What is the cellulose in the ingredient list for?
Our capsules are made from cellulose (plant fiber), which makes them dissolve quickly and is great for digestion.

*This statement has not been evaluated by the Food and Drug Administration. This product is not intended to diagnose, treat, cure, or prevent any disease.